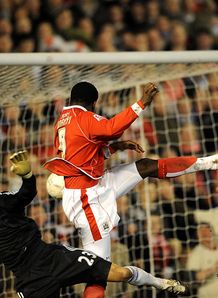 It was a weekend for the giant killers in the English F.A. Cup quarterfinal matches this past weekend, and there was no bigger upset than the one engineered by Barnsley, who knocked out defending Cup holders Chelsea on Saturday, 1-0.
I caught a good part of the match on FSC, and Barnsley pulled a second straight upset, as they knocked Liverpool out in the 5th Round a few weeks back. Kayode Odejayi (pictured) scored the only goal about midway through the second half. Chelsea threw the kitchen sink at Barnsley as the time was dwindling down, but the Barnsley defense held on. They bent a little but didn't break. The fans invaded the pitch at the end as Barnsley made it to semifinals for the first time since 1912.
What's makes it so astounding is that Barnsley's a Championship side (the second division in English soccer) and they are struggling just to stay there, as they are in 19th place currently. Liverpool and Chelsea are both deep into the European Champions League this year, but a lowly second-tier team knocked them both out of the F.A. Cup. Amazing.
And Manchester United, one of the world's soccer giants, also got bounced out today, by Portsmouth, 1-0, at Old Trafford. It was a controversial game, as United lost both goalkeepers, one to injury and another was sent off after a questionable tackle. Rio Ferdinand was brought into goal and gave up a penalty kick that gave Portsmouth the win. Man U manager Alex Ferguson was boiling mad after the game, and with good reason. The referee appeared to be watching either another match or had a bet on Portsmouth, as he seemed to let a number of obvious fouls on Portsmouth go.
And today, Cardiff knocked out Middlesbrough, 2-0. Cardiff is a mid-table Championship team, and they knocked out another Premiership club. West Bromwich Albion (also of the Championship) knocked Bristol Rovers out as expected, 5-1, the only match that wasn't a surprise. These results mean that at least one Championship team will make to the Final, as Portsmouth is the only Premiership side left. If they lose in the semis, it will mean the Final will be composed of two second-tier teams, and that has never happened in the F.A. Cup's history.
The Big Four (Arsenal, Liverpool, Chelsea and Manchester United) are all out of the Cup, none having made it as far as the semifinals, while three Championship clubs are still alive and kicking. The odds of that are simply astronomical, and I bet even longer than Alex Rodriguez playing in a World Series.