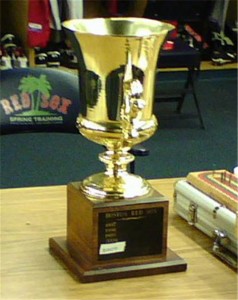 Twins 9, Red Sox 8. 8-1 lead in the eighth goes up in smoke thanks to some lousy Dan Wheeler and Bobby Jenks pitching and some equally lousy defense by some guys who won't be on the Opening Day roster.

The four-time defending Mayor's Cup (pictured) winners see their trophy go to the other side of Ft. Myers. (With thanks to my buds at Surviving Grady for the pic.)

Got a sneaky feeling this won't be the last time I'll be complaining about Jenks in 2011.