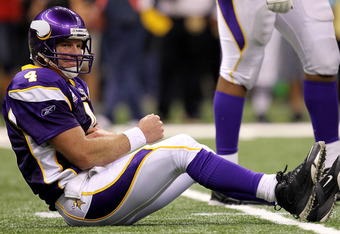 As soon as I saw the Vikings would be playing their opener on September 9th in New Orleans a few months back, I didn't have a good feeling about it.
But it was a tough, grind-it-out opener to the 2010 season, but the Vikings ultimately came up short to the defending Super Bowl champion New Orleans Saints, 14-9, in the Superdome last night.
At first it looked like it might be a blowout from the first New Orleans drive, as Drew Brees attacked the Vikings defense with crisp passes, ending with a 29-yard pass to Devery Henderson in just over two minutes to put the Saints up 7-0. The Vikings got the ball and went three and out, and I thought this was really going to be a long night.
But the defense got its bearings. They ultimately held New Orleans to just the two TDs, the lowest scoring output in a victory in the Sean Payton-led Saints era (since 2006).
The Saints also played good defense as well, and held Adrian Peterson to 87 yards rushing on 19 carries. Brett Favre actually looked pretty good in the first half, but came out looking rather rusty in the second half, as his first seven passes in the third quarter were incomplete. He was 15 of 27 for 171 yards on the night, which included a 20-yard TD pass to Visanthe Shiancoe with 50 seconds left in the half that gave the Vikings a 9-7 lead (the extra point was blocked).
The Vikings turned the ball over just once, when Favre was picked off by Jonathan Vilma on an ill-advised short pass in the second quarter.
The Saints got a TD with 6 minutes left in the third, when Pierre Thomas went in from one yard. It was the final score of the game, but last year's hero, kicker Garrett Hartley, missed two rather makeable field goals that would have given New Orleans a bigger lead.
Overall the Vikings looked rusty on offense, and you have to wonder if the loss of Sidney Rice for half the season will be greater than originally feared. The defensive line recorded just one sack, and Jared Allen seemed to be AWOL all night.They now have nine days to get ready for their next game, which will be their home opener against Miami at the Meterodome on September 19th.
And a note to the Saints: you don't put up three banners when you win a Super Bowl. Forget the "NFC South" and the "NFC Champions" banners. You did better than that and you won the ultimate prize. Let that one stand alone. And why do the NFL champions insist on calling themselves "World Champions?" It's a misnomer. "Super Bowl" or "NFL" champions makes much more sense.