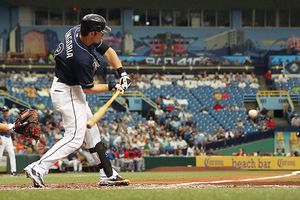 Evan Longoria
is pissed off, and I don't blame him.
The Tampa Bay Rays, who have the second best record in baseball and the best one in the AL, were on the verge of clinching their second ever postseason berth in three years against the Baltimore Orioles last night in St. Pete. (Baltimore won so it didn't happen.) They have a young, exciting team, something every true baseball fan, especially ones who support teams not going to the postseason, would envy.
So what kind of crowd do they get on what could have been an historic night? A whopping 12,446. (And there were some O's fans among that number as well.)
That is beyond disgraceful. The Tampa Bay fans should be absolutely ashamed of themselves for such lack of support. The Rays have been averaging about 23,000 for the season, which is still on the lower end of the MLB scale. But they drew just half of that!
I don't want to hear the usual excuses I hear for that: it's a lousy ballpark, it's a school night, etc. Longoria actually stopped short of ripping the fans, but for Rays players, it has to be beyond embarrassing, especially when they play their rivals in Boston and New York and see very few empty seats.
Longoria:
"It's a tough situation for us. A lot of the visiting teams come in and wonder where are all the fans. It's actually a little bit embarrassing for us. We're one game away from clinching a postseason spot. We have enough guys in this room to celebrate with, but we'd love to celebrate it with the fans, too."
More and more, the Tampa Bay area does not deserve an MLB franchise. They are in a small market, but small market clubs like the Minnesota Twins, who also have put out a quality club on a relatively small budget, consistently fill their ballparks.
Tampa is a football town. I totally agree with Longoria. He called the fans out, and rightfully so. They need to get their asses to Tropicana Field and show they care about their franchise. Hell, where are the bandwagon fans at this time of year?